TOWN OF BREDENBURY
NEWSLETTER DECEMBER 2016
Merry Christmas and Happy Holidays:
December is a very busy month for everyone. Council and Staff would like to wish all residents a safe and happy holiday season.
Office Hours:
The office will be closed from December 26 - December 30. The office will reopen January 2, 2017.
Taxes:
The office will be closed the last week in December for holidays. Taxes should be paid prior to the last week in December, you may drop off postdated cheques; you may drop your cheque in the mail; you may drop cheque off at drop off box; and you may pay online (remember there is sometimes a two day delay). Taxes unpaid by December 31 will result in 10% penalty.
Water & Sewer:
For those of you that are on automatic payments, with the increase of utility bills in January your monthly payment will automatically be switched to $55.00; this is to have rounded numbers and it will amount to $165 per quarter. The extra $5 will be applied to overages; and for those of you that do not have overages it will be applied to next bill. If you have a concern with this then please contact the town office to be removed from automatic payments.
The overages will be pulled from your account June and December of each month as it is set up now; really high overages will be mailed out.
If you receive a bill and you are on automatic withdrawals it is likely because it was not pulled out manually from mailing pile.
Water bills must be paid before end of December or they will be put on taxes and will have a 10% penalty added to them; plus the registered mail fee.
E-transfer:
Maybe you don't want to make an online payment, did you know you can e-transfer to the Town of Bredenbury. Just email the transfers to Bredenbury@sasktel.net and in a separate email let the office know what you are making a payment on.
Gym Free Month:
The Town of Bredenbury is offering free gym membership to all those that qualify for the month of December. All you have to do is come to the town office and sign the waiver and get your key. After your free membership ends, you may either keep your membership by paying at the town office; or end it by leaving your key at the office or in the gym and filling out a quick survey about your gym experience. All current members will automatically have their memberships extended one month.
The Bredenbury gym has added a bench press bar and curl bar to its inventory. It is already getting lots of use.
If you are interested in joining the gym membership is $30 per month or $275 per year and is accessible 24 hours a day with a key fob. Gift Certificates are available.
Thin Ice:
With the warm temperatures the ice will take a long time to be safe enough to walk on it. Please stay off the Rose Bowl and Golf Course Water Areas. The ice is way too thin to walk on and the water is very deep. Below are safety rules regarding ice thickness, please pass this on to your children.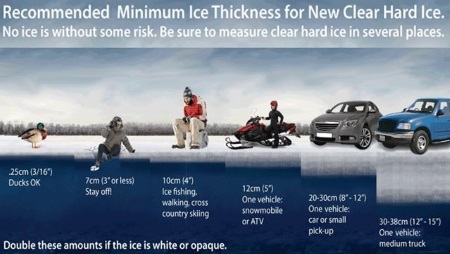 Ottenbreit:
There will be an extra garbage cart pickup on December 27 and an extra recycle cart pickup on December 29. Please have them out early or night before.
Also find attached the new calendar for 2017. We will not send out a calendar for large bins, if you would like a calendar on those then please call the office to have one mailed to you.
Please note there are new owners of Ottenbreit Sanitation and they have been experiencing some Administration problems which they are rectifying. The new calendar has more of a pattern. Garbage carts will be every second Thursday; and recycle carts is every 4 weeks on a Wednesday.
Bredenbury Rink:
The Bredenbury Rink is open. Public Skating will be Wednesdays and Fridays from 4-6 and Sundays from 1-3. There will be no charge for public skating.
There will be no Public Skating on Sunday, December 25. Also public skating times will be changed to 1-3 during the school holidays; these dates include: December 23, December 28 and December 30.
Book your ice time online at www.schedulicity.com or call 898-2055 and see what is available. The ice time is $120 per hour. Ice time can be paid with mastercard, visa, cash, cheque, or e-transfer.
Break and Enters & Vandalism:
Lately in Bredenbury there has been an increased amount of vandalism and break Ins; this is very sad to see in our quiet town. Please remember to lock up your property and report any suspicious behaviour to the RCMP.
Cougar Games 8:00 p.m.:
December 9 in Bredenbury vs. Rocanville
December 21 in Bredenbury vs. Esterhazy
December 30 in Bredenbury vs Theodore
January 7 in Bredenbury vs Langenburg
January 14 in Bredenbury vs Theodore
January 21 in Bredenbury vs. Esterhazy
January 28 in Bredenbury vs Whitewood
February 4 in Bredenbury vs Kipling